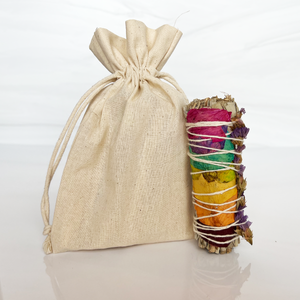 Two Sage Chakra Bundles
Sale price Price $10.00 Regular price $12.00 Unit price / per
Two 4 inch sage bundles with rainbow chakra rose petals, packed neatly in a canvas drawstring bag.
About Sage
Sage has been used as an spiritual tool for centuries and is known for its purifying and cleansing properties. It is often used to cleanse the aura and release negative energy.
Our sage chakra smudge bundles are made using high quality, sustainably harvested California White Sage grown and harvested by small farmers in Southern California.