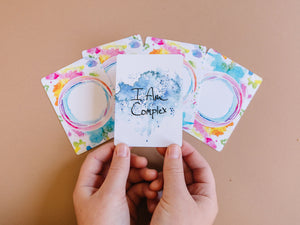 I Am Powerdeck
Sale price Price $38.00 Regular price Unit price / per
The I Am Powerdeck is a powerful tool to help build your self confidence, self worth and overall well-being. It includes 108 "I Am" affirmation cards to help cultivate positive self-talk to activate your inner power and gives you an increased sense of self-worth.
When we incorporate positive self-talk into our lives, we discover we can build confidence, improve productivity, and overcome negative feelings that weigh us down and prevent living our fullest lives. 
The I Am Powerdeck is the easiest way to use positive affirmations to change negative thought patterns into more positive, healthy inner dialogue.